The campaign #QuietaAsWereKept aimed for a day in solidarity for women of color in media. On June 11th, participants of the campaign were asked to either pause their workday to show solidarity or donate to the #QuietAsWereKept Freelance Fund. It has been overlooked, but far too many women of color experience racism, microaggressions, and violence in the workplace. Pausing the workday helped to show the strong number of women who were brave to speak up and support other women of color in the media industry. The freelance fund will support women of color who are freelancers.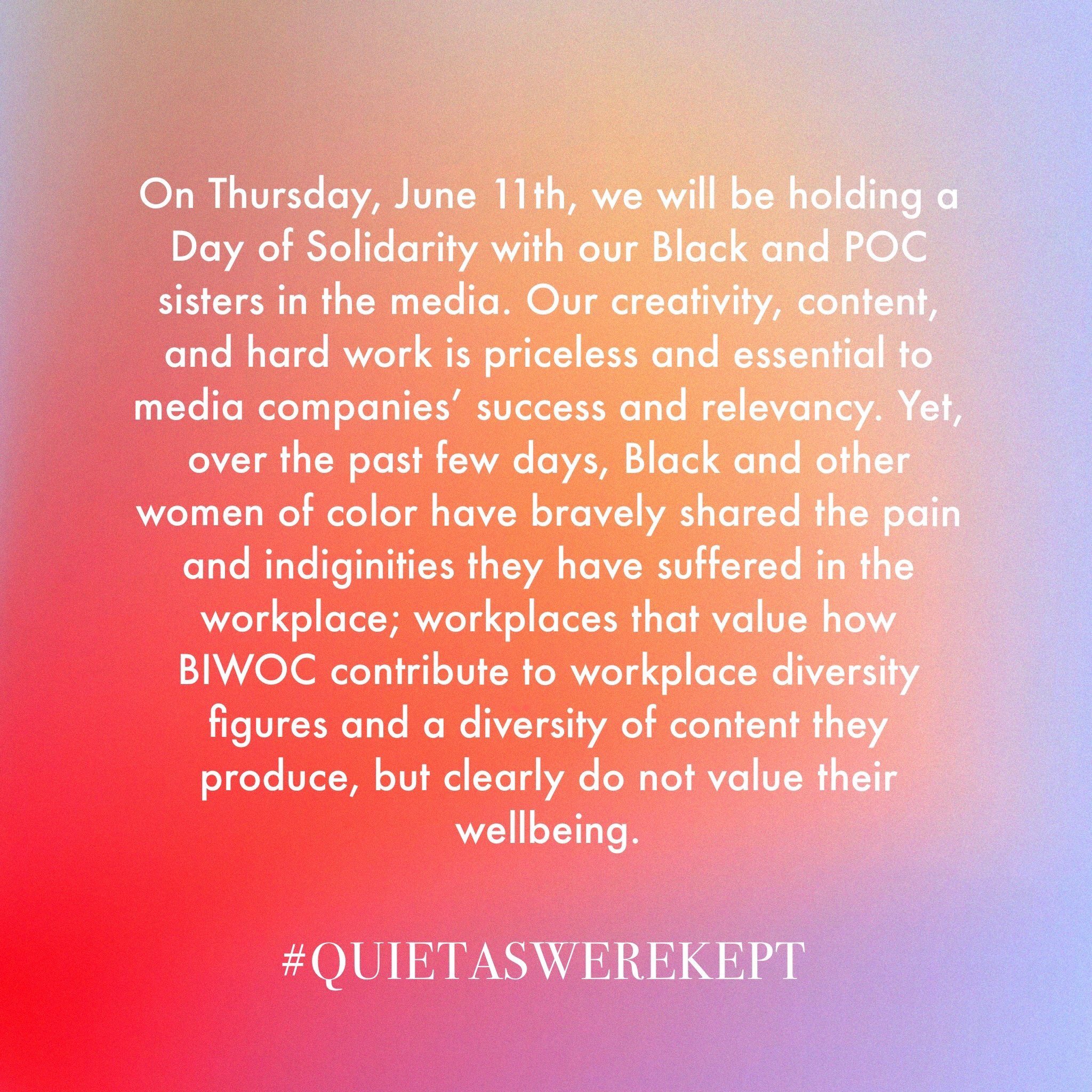 Throughout Twitter, women of color shared their stories of facing racism and discrimination in the workplace. By pausing a workday, it was asked for supporters to pause unrelated content creation for the day and spotlight the issues women of color face in the media. Sometimes Black content creators are overlooked or used as a token for the company, and many women have expressed their frustrations on social media. Women should feel safe to express their concerns without the fear of losing their job. Especially, when it comes to speaking up against unequal pay and treatment in the workplace.
Former and current employees from Refinery29, The New York Times, Man Repeller, Bustle, and others took the risk of sharing their experiences. By sharing the hashtag #QuietAsWereKept and their stories, they are calling on all media companies and publications to put forth concrete steps on how they intend to rectify all pay disparities, solve lack of growth opportunities and call out the capitalization of Black staffers while still being underpaid. Enough is enough. The reality of what women in media face is being brought out onto the forefront, and a call to action to demand an end to these injustices.
Over 450 stood in solidarity with the campaign, and it was able to bring the issue to institutions that are held with high esteem. Due to the risk of speaking up, the #QuierAsWereKept Freelance fundraised under $40,000. The fund will be distributed to 75 freelancers who are women of color. The fund is no longer accepting applications to receive aid, but donations can still be made. Donations can be made via Venmo @QuietAsWereKept-FreelanceFund
You can follow the #QuietAsWereKept campaign here.
Read also:
The Myth Of Choice Feminism
Everybody Wants To Rule The World
Too Few Women In Tech And Too Many Forced To Leave